The primary period of Ash versus Evil Dead was relentless crazy commotion, proceeding with a story that started 35 years prior in the most remunerating way imaginable. How could the second season perhaps best that? Sam Raimi had the reply: up the ante, permit certain characters to develop, and make everything no less than 10 times gorier.
The previous evening's finale wrapped up this current season's all-encompassing homecoming subject by taking Ash back to the lodge where everything started—once more. It's a similar place where season one finished, however this time the conditions were a considerable amount diverse. Rather than Ash, Kelly, and Pablo making the trek to give back the Necronomicon and thrashing Ruby (which isn't at all how things turned out), Ash, Kelly, Ruby (now a partner), and Pablo's separated carcass at last worked in that Army of Darkness reference we've been sitting tight for, and time-traveled back to 1982. The arrangement, cooked up by an extremely tanked Ash, is keep the more youthful variant of Ash from steadily airing out the reviled book, along these lines keeping him from turning into a never-ending Deadite target—and sparing Pablo's life quite a while down the line. Be that as it may, Ash is "El Jefe," the divinely selected individual, keeping in mind changing history is a sufficiently extreme assignment, changing one's destiny is something else completely.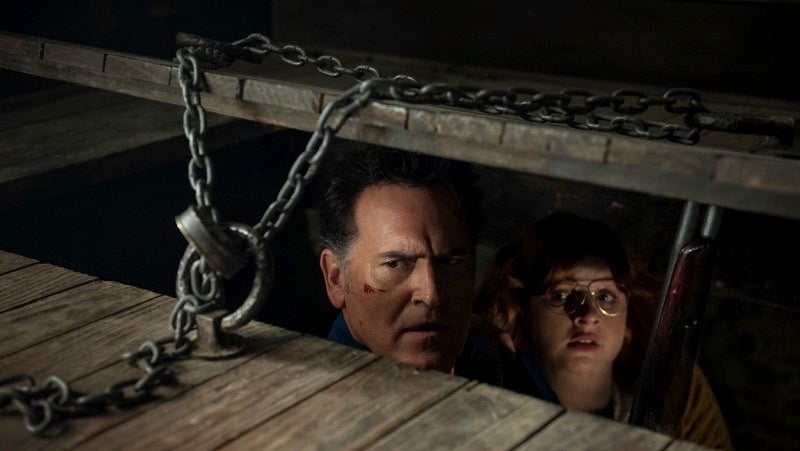 Something Ash versus Evil Dead does most splendidly is make supporting characters who are sufficiently wide to fit into Ash's insane, cartoonish world—but at the same time are fit for subtlety. We saw Ruby, last season's scoundrel, lose her interminability and, all the more imperatively, move her point of view in general great versus fiendish thing in the wake of birthing devil bring forth that in the long run betrayed her. Kelly substantiated herself a more than proficient brawler—additionally thought about whether perhaps she ought to battle her own fights as opposed to simply being Ash's sidekick. Pablo had the hardest time of all, spending all season rationally bound to the Necronomicon, something that he knew he wouldn't have the capacity to survive.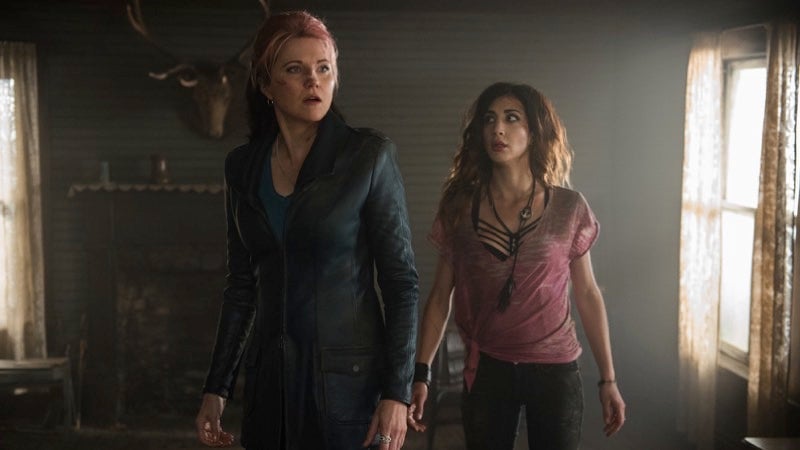 So, this show is called Ash versus Evil Dead, and the fundamental motivation to watch—other than the brilliantly appalling embellishments, and the cunning call-outs to the motion pictures that preceded the TV show—is Bruce Campbell as Ash. His execution on the arrangement is the ideal mix of a person who's seen everything some time recently, and is along these lines prepared for anything, yet still figures out how to be shocked without fail. (Never unfasten anybody or anything that is caught in the lodge storm cellar, Ash—you ought to realize that at this point!) And however he acts like an egotist more often than not, he's additionally no sham, and he's continually being thought little of.
This quality was utilized to incredible impact in scene seven, "Hallucination," which invested the whole energy attempting to persuade the viewer that Ash had been regulated for a long time in the wake of killing every one of his companions at the lodge. Despite the fact that it was somewhat clearly a deception coordinated by "Bill," the skin-taking devil, it was the first run through Ash versus Evil Dead has impeded its generally very quick pace and centered itself around one particular high idea. In the midst of an ocean of different stakes-raising minutes this season—presenting (and after that killing off) Ash's dad, as a flawlessly cast Lee Majors; the Delta 88 getting to be distinctly had; Ash battling an undead human colon; Ash recovering his hand, just to lose it once more—it was an intriguing trial that won't not have completely worked, but rather demonstrated the show is keen on more than only streams of blood and bile.
Saying this doesn't imply that it didn't invest a dreadful parcel of energy cooking up a lot of new and appalling situations that have legitimately turned into the show's trademark. I thought the colon scene specified above would have been my top pick for season two's most-appalling minute, yet then I saw Deadite Henrietta coercively bosom encourage our squirming legend—which made me both scream with sickening apprehension, and thank the TV divine beings that there'll be a season three of Ash versus Evil Dead. What could beat that nightmarish sight? Probably will discover when the show returns.